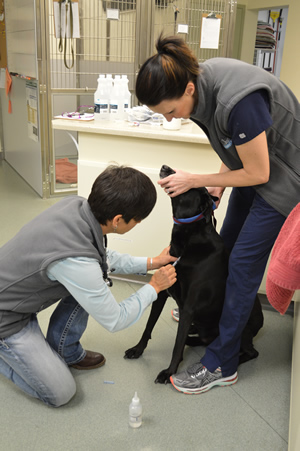 The branch of veterinary medicine that deals with the diagnosis and (non surgical) treatment of diseases.
We have the experience and diagnostic tools to identify and treat the most extensive of internal medicine diseases. Through blood work, cytology, tonometry, ultrasound, endoscopy, digital x-ray and other diagnostic tools we can help you determine the best course of treatment for your companion. With our complete in-house laboratory, most samples can be analyzed and the results reviewed in a matter of minutes.
Ophthalmic Examination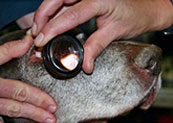 Your eyes are precious and so are your pet's. If eye diseases are not properly identified and treated quickly they could progress to loss of vision. If your pet is experiencing an eye problem they should be examined by a veterinarian quickly.
A thorough ocular examination includes: testing tear production, corneal staining for abrasions and ulcers and measuring ocular pressure (for glaucoma or for low pressure related to inflammation within the eye).
We have a Tono-pen to measure ocular pressure, one of a few in the region, and a hand held indirect lens which provides a panoramic view of the retina. With these instruments and tests we can diagnose and treat most ocular conditions. This information is also helpful for facilitating referrals to a board certified veterinary ophthalmologist, if needed.